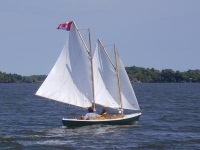 The main islands have excellent facilities for just about every kind of beach and water activity, including parasailing, water skiing, windsurfing, fishing, and sailing. The larger resort hotels generally include watersports in their rates, but it is easy to organise activities for unaffiliated travellers as well.
There's plenty of excellent sailing to be done in the Bahamas and the islands offer gorgeous, crystalline waters and a seemingly endless series of cays to visit. Even around the most popular islands you can drop anchor at a remote spot and enjoy sunny, tranquil swimming and snorkelling far from the shore.
The sheltered waters of the Sea of Abaco and Exuma Sound are good for beginner mariners, while for the more competitive, or social, most islands hold their own regattas in late summer. The best regattas include those hosted by Exuma, Long Island, Nassau/Paradise Island, and Freeport/Lucaya. Non-sailors can charter a crewed boat for a few days of quiet and carefree escape.