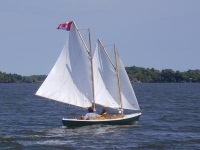 The main islands have excellent facilities for just about every kind of beach and water activity, including parasailing, water skiing, windsurfing, fishing and sailing. The larger resort hotels generally include watersports in their rates, but it is easy to organise activities for unaffiliated travellers as well.
There is some excellent fishing in the Bahamas and people come from all over the world to test their skills out on the wide variety of fish. The archipelago is most famous for deep-sea sport fishing and with the right guide you should easily find schools of dolphin fish, wahoo, tuna and above all, blue and white marlin. However, many fishermen prefer the challenge of fly and spin casting for bonefish on the sandbanks which surround many of the islands. They can be caught year-round, though April and May is spawning time and hence the most productive season.
There's plenty of excellent sailing to be done in the Bahamas; the islands offer gorgeous gin-clear waters and a seemingly endless array of uninhabited cayes inaccessible by any other means. Even around the most popular islands you can drop anchor at some remote spot and enjoy sunny, silent swimming and snorkelling far from the shore. The sheltered waters of the Sea of Abaco and Exuma Sound are good for beginners. For the more competitive, or social, most islands hold their own regattas, usually in late summer; the best regattas include those hosted by Exuma, Long Island, Nassau/Paradise Island, and Freeport/Lucaya. Non-sailors can charter a crewed boat for a few days of quiet and carefree escape.