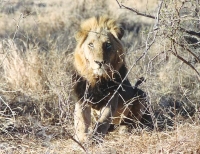 One of the biggest draws of visiting South Africa is the opportunity to go on safari. In fact, the world's image of the country almost always revolves around the famous Big Five (elephant, rhino, lion, leopard, and buffalo) set against the backdrop of a vast, diverse, and beautiful wilderness.
Numerous game parks are scattered throughout South Africa. However, it is the oldest, largest, and most well-known wildlife conservation area, the Kruger National Park, which proves to be the destination of choice for most international visitors.
Big Five viewing opportunities abound in many of the parks, and many private game reserves have the added attraction of being malaria-free, unlike the Kruger. There are many incredible creatures to seek out, apart from the Big Five.
These animals include wild dogs, hyenas, cheetahs, baboons, numerous antelope species, warthogs, giraffes, zebras, hippos, crocodiles, ostriches, and monkeys, not to mention a wealth of birdlife. Parks offer guided walking tours, jeep safaris, and night drives, as well as self-drive safaris for those with their own vehicles.
The parks have a variety of accommodation options, including world-class luxury game lodges and budget camp sites. Game viewing is possible year-round but many consider winter (June to August) the best season for safaris, as the animals tend to be easier to spot when the bush is less lush and dense.