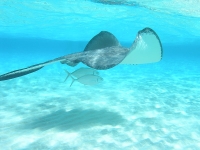 A breathtaking variety of marine life, year-round warm and calm water, and great visibility make the Cayman Islands one of the world's best scuba diving destinations. There are more than 40 dive operators on the island and more than 200 reef and wreck dive sites. The abundance of fish, marine and coral life is protected by strict conservation.
On the main island, Grand Cayman, the best dive sites include Victoria House Reef, just off Seven Mile Beach, and along the reefs at the mouth of North Sound. Eden Rock and Cemetery Beach Reef are also popular for snorkellers. Nearby at Sandbar and Stingray City there is the unique opportunity for snorkellers and scuba divers to feed and stroke the stingrays.
Sandbar is a pure white sand ridge in just three feet (1m) of water. Stingray City is slightly deeper at 12 feet (4m). In Cayman Brac the most famous dive site is the Russian built Cuban destroyer, which was purpose-sunk in 1996 to form an artificial reef.
Little Cayman also boasts some first class dive sites, including the North Wall and Bloody Bay Wall off Jackson Point. Non-divers can enjoy the reefs from the Atlantis Submarine, which offers hour-long underwater trips for up to 46 passengers.
Scuba diving is possible and enjoyable all year in the Cayman Islands. Many people prefer to avoid the hurricane season, which runs from August to October, but if the storms don't hit this is in fact a wonderful season for diving. The water is warm enough to dive without a wetsuit, or in a short 1.5mm wetsuit, although technical divers going to greater depths may want something a bit warmer.