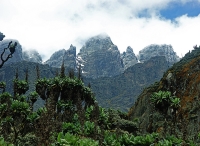 Forming the western border of Uganda lie the majestic Rwenzori Mountains, the legendary snow-covered 'Mountains of the Moon' as described by Ptolemy in 150 AD. Reaching an altitude of 16,762ft (5,109m), they form Africa's highest mountain range, lower only than the freestanding Mt Kilimanjaro and Mt Kenya, and include Africa's third highest peak, Point Margherita on Mt Stanley. Protected within a national park, the six peaks and their slopes form a world-class hiking and mountaineering destination.

Experienced alpinists will find challenging climbing opportunities on three glacial peaks over 16,000ft (5,000m), while serious hikers will enjoy the demanding six-day Bujuku Circuit that offers superb scenery and is regarded as the most challenging of all African mountain walks. However the Rwenzoris are not the only hiking destination in Uganda. Mt Elgon National Park in eastern Uganda on the border with Kenya offers an exciting alternative to hikers with no technical mountain experience, but who still enjoy being able to reach the highest point.

The extinct, 14,177-foot (4,321m) volcano has a four-mile (6km) wide caldera encompassing impressive caves and hot springs. Its highest peak, Wagagai, does not project noticeably above the crater. It is possible to reach the summit of Mt Elgon in three days and no special equipment is necessary. In south west Uganda, three extinct volcanoes in Mgahinga National Park also offer exciting hiking without the necessity of special mountaineering equipment. Mt Sabyinyo, Mt Muhabura (the highest at 13,540ft/4,127m) and Mt Gahinga are part of the Virunga mountain range belonging to the Democratic Republic of the Congo. Mt Gahinga is also famous for its mountain gorillas.