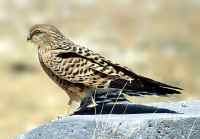 Ethiopia has emerged as one of the foremost birding destinations on the African continent, boasting more than 850 known species, of which at least 23 are endemic to Ethiopia. Habitats supporting the best bird life include the Rift Valley lakes, the highland massif, forests, and the lowlands.
The Rift Valley is scattered with lakes that offer an enormous diversity of bird life; more than half of all Ethiopia's species have been recorded at both Awash National Park and Abijata-Shalla Lakes National Park. Lake Langano and Nechisar National Park are also excellent birding sites and commonly seen birds include kingfishers, storks, pelicans, flamingos and fish eagles.
The highland escarpments form the most typical of Ethiopian habitats for birds and offer a number of species not found elsewhere in Sub-Saharan Africa, like the Golden Eagle, Red-billed Chough, and Ruddy Shelduck; other endemics include Rouget's Rail and the Spot-breasted Lapwing. More than 50 species of birds inhabit the Simiens Mountains National Park, including the impressive Bearded Vulture, or Lammergeyer, with its 10-foot (3m) wingspan. Bale Mountains National Park in the highlands is another popular birdwatchers paradise.
The south of the country also affords superb birding opportunities with sought after endemics like the Prince Ruspoli's Turaco, Degodi Larks and Stresemann's Bush Crow.
Various tour operators offer birdwatching adventures in Ethiopia. Travellers should do some research into reputable tour companies and good guides as the quality of tours varies, though by all accounts the best guides are truly wonderful. October to December are generally considered the best months to go on birdwatching adventures in Ethiopia, but there is some variation according to region.