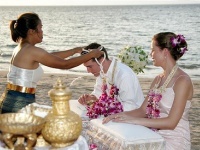 A wedding and honeymoon in Thailand is a romantic and exotic experience. Thailand's tropical islands are home to picture-postcard beaches, exotic culture and great weather, making this a perfect destination for a uniquely romantic wedding and honeymoon. Authentic Thai Buddhist, Lanna (northern Thai) and traditional Christian ceremonies are all available as Thailand wedding options, ensuring a deeply spiritual and binding experience for any couple.

Thailand Wedding and Honeymoon Destinations
Chiang Mai, Koh Samui, Phuket and Krabi are the top destinations for Thai weddings and honeymoons, while Pattaya and Koh Tao also have popular venues. There are various resorts and hotels, as well as wedding companies, offering their services to couples. Wedding and honeymoon couples in Thailand might enjoy hill-tribe trekking, diving, rock climbing or taking Thai cooking lessons together. The best time of year for a wedding and honeymoon in Thailand is in February or March, when the weather is dry and comfortably warm.

Thailand Wedding Formalities
Marriage requirements in Thailand vary for different nationalities and couples are advised to consult their embassies beforehand for details.