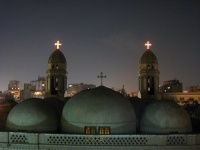 A wedding in Egypt can be extraordinary, steeped in romance, culture and history. Legal marriage was born in Ancient Egypt and is a tradition that has stood the test of time, making this historic land a wonderful location for weddings today.

In Egyptian tradition the marital couple is met before the wedding ceremony by a Zaffa, which is a group of singing drummers and belly dancers. The marriage rites take place while the couple are seated in throne-like chairs facing their guests; all very regal! When contemplating a wedding in Egypt, imagine a couple exchanging their vows with the pyramids, the Sphinx or the Nile River in the background...

Egyptian Wedding Attractions
While in Egypt for the wedding, sightseeing and diving are two splendid ways to spend quality time together; visit the Pyramids of Giza and the West Bank in this beguiling land of the Pharaohs to see artefacts of ancient history, or go diving in the Red Sea and experience an entirely different yet equally phenomenal underwater world.

Egyptian Wedding Formalities
The legal procedure for foreign weddings in Egypt is quite complicated and couples are advised to consult a lawyer or notary, well in advance, for requirement details and other necessary information. Many couples decide to make it legal in their home country while having a memorable wedding ceremony in Egypt.