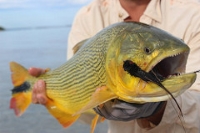 Fishing in Argentina is appealing to anglers of all types. Beginners to experts, spinners and fly-fishers are all like fish here: when they catch the Argentina bug, they're hooked. Argentina has a huge variety of fishing destinations. Patagonia offers the best fly-fishing. Lower and deeper rivers are best suited for spinning and trolling. The Atlantic coast makes for innumerable sea fishing destinations. Each region has different regulations and fishing seasons, but in general, the best time to visit is in summer.
The Dorado, known for its fighting spirit and beautiful golden colour, is the country's most prized fish. Sharing the conquistadors' thirst for gold, fishermen are infatuated with its size and lustre. These beauties can be battled throughout the country's various terrains. Argentina's trout are equally versatile, and salmon were artificially introduced to the country for sport fishing and now thrive in its mountain streams.
There are several lodges in the country geared exclusively for fishing holidays, providing great fishing spots, accommodation, food, and fishing guides as part of one package. Two well-known lodges that provide these kinds of trips are Hambare Lodge and Rio Manse Lodge.