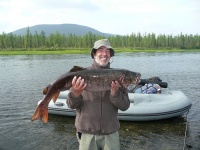 For keen adventurers, fishing in Russia means exploring vast forested areas in search of lakes, rivers and streams. The best fishing regions are thinly inhabited, even by fishermen, but dense with wildlife. The region of choice depends on what type of fishing visitors prefer.
In the far northwest, the Kola Peninsula and its famed Ponoi River is a known destination for top Atlantic salmon fishing. It has many miles of fishable river and great camps and lodges along the way. The Kamchatka Peninsula stretches out the other side of Russia into the Pacific and is an ideal place for fly-fishing, with rainbow trout, Arctic char, grayling and Pacific salmon all available. Flights from Anchorage Alaska have opened these streams to more business but visitors can still be assured that they will see few people and have little to no competition. Camps transfer anglers (via helicopter) to favoured fishing spots that are usually kept secret.
Farther into the Pacific is Sakhalin Island, stretching from the continent 589 miles (950km) to Japan. Float trips take fishermen past days of wilderness to do battle with the Sakhalin taimen, the strong and battle-ready prize of Russian catches (anglers should note that Sakhalin taimen are now critically endangered and should take care to learn about the legality and ethics of fishing for these fascinating creatures). The island is also reachable from Korea.