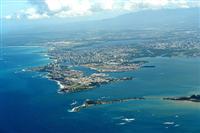 San Juan is more than just the capital of Puerto Rico, it's the very centre of the Caribbean cruise scene. Over 1 million passengers begin or end their cruise here, and some of the biggest luxury liners base themselves at the harbour.
That's great news for passengers because San Juan is a wonderful city to see and explore. It's friendly, safe, surprisingly good value, and jam-packed with historical sites. The main attractions are in Old San Juan which is located not far from the main disembarkation piers. The area is an historical wonderland of Spanish colonial architecture, spread out over seven blocks of cobble-stoned streets - the same stones that served as ballast for ships 500 hundred years ago.
Key sites are San Felipe del Maro, the largest fortification in the Caribbean and sentinel to the Spanish Armada, formerly based in the port below; and La Fortaleza, built in 1540 as the Governor's residence (the current governor is the 170th to live there). For a more modern twist on the city don't miss the San Sebastian Street Festival from 17 to 20 January, when the city really comes to life.
Hungry? Head over to La Mallorquina on Calle Cruz, the most famous purveyor of Puerto Rican food in the country. The waiters may be as old as the building, but the food is excellent and truly authentic. Nearby La Barrachina claims to be the birthplace of the piña colada.
Shoppers can head to Cristo Street where there are abundant factory stores and idiosyncratic souvenir joints. Good news for American shoppers is that since Puerto Rico is part of the USA, purchases are duty-free, a fact that many rum-laden passengers exploit to the full.
Those with time on their hands might head out of the city to see Arecibo Observatory. Its enormous dish - the size of 12 football fields - help make this the most significant astronomical observatory in the planet. A little further afield, at 2 hours drive from San Juan, is the 260-acre Camuy Cave Park. Although still being discovered this subterranean wonderland is already being deemed one of the largest and most exciting cave networks in the world.
Cruise passengers can visit the La Casita tourist information centre just off Pier 1 on Calle Marina to plan their exploration and excursions.