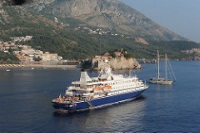 Croatia is rapidly building its reputation as a world-class cruising destination, with Dubrovnik in particular a red-hot port now included in almost every eastern Mediterranean cruise itinerary. It's not hard to see why. Known as the 'Jewel of the Adriatic', historic Dubrovnik is a strikingly attractive city set like a shimmering diamond in the crown of its magnificent 13th-century harbour.
Dubrovnik cruise passengers can access the pedestrianised Old Town right from the port. This UNESCO World Heritage Site features a renowned Franciscan Monastery, with a working pharmacy dating to 1317, as well as plenty of lively, modern sights and sounds that draw a substantial influx of tourists and cruise passengers throughout the year.
The best of the invariably excellent beaches is probably Banja with its crystal clear waters and white sand. For a bit more seclusion, get a ferry from the port to Lokrum Island. Don't miss Dubrovnik's annual Summer Festival over July and August when live music by international stars brings the peak tourist season to life.
The harbour is the centrepiece of the town but only yachts and small boats can dock there. Cruise ships will either berth at Gruz Harbour, 20 minutes from the Old Town, or anchor in the deep waters offshore affording passengers lingering views of Dubrovnik's romantic facade.
Cruises from Dubrovnik will take in other Croatian highlights such as Split, which is built up around Roman Emperor Diocletian's Palace; Zadar, with its many historical sites; and Korcula, birthplace of Marco Polo. On course to these attractions, passengers will enjoy views of the thousands of pristine islands that make up the Croatian Archipelago.
For those who wish to cruise from Dubrovnik, a good alternative to big cruise liners are the traditional gulet cruises. These wooden vessels generally carry from 20 to 40 passengers and offer sleep-on packages of up to seven days. The small size of the gulet allows it to access coves and harbours in the Adriatic that larger vessels are denied.