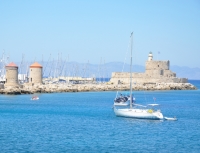 Greece's islands are popular cruise destinations. Scattered like jewels over the Mediterranean, they offer travellers picturesque scenery and astounding history. Few destinations can match that.
Regarding options, Travellers can select a 10-day cruise that covers the region's main highlights. Key attractions would include the perfectly preserved harbours of Mykonos, the famous white-washed houses of Santorini, and the wonderful landscapes of Corfu. The snapshot would also take in Cephalonia's magical scenery (setting for Captain Corelli's Mandolin), the castle guarding the port of Kos, and the old-walled town of Rhodes.
Against this, travellers can opt for something more intimate. Essentially, large cruise liners offer comfort and luxury, but are somewhat out of place when looming over tiny, historic port towns. Smaller vessels, sailboats, catamaran charters or mega yachts make for a closer, more personal experience. Smaller boats also allow for swimming stops. Travellers with personalised itineraries can use the basic ferry system to get from island to island.
Most cruises are round-trips from the Port of Piraeus in Athens, which has become the cruise-ship hub of the Mediterranean. Athens, of course, has many attractions to offer, from iconic sights like the Parthenon and Acropolis, to fabulous shopping and the best of Greek cuisine. Travellers should allocate some time to explore.