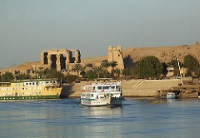 There is no better way to discover Egypt than aboard a Nile cruise, as nearly all the country's major attractions are situated along the river. Cruises take visitors past ancient Egyptian sites such as the Temple of Karnak, the main place of worship in Theban times, and the West Bank's Valley of the Kings, home to the Tomb of Tutankhamun and Ramses II, Colossi of Memnon and Hatshepsut's Temple. A Nile cruise is a truly unique and luxurious way to discover and explore the land of the Pharaohs.
On-board most cruise liners, guests will find fantastic amenities in the way of opulent cabins, banqueting halls, lounge bars and swimming pools. Exquisite food and outstanding service come standard on these river vessels, reminiscent of 'moving hotels', and visitors will find it easy to sit back and enjoy this unique sightseeing experience.
Most voyages are between Aswan and Luxor, where disembarking passengers can explore local markets, visit the papyrus museum and traditional perfume shops of Luxor, or dine on the exotic cuisine of Egyptian restaurants. There are also opportunities to witness the rural Egyptian lifestyle while the boat is moving between tourist destinations.
There are various Nile cruise operators offering top-class trips through Upper Egypt, as well as package deals including flights, hotel accommodation, guided tours and, of course, the cruise. A smaller sailboat, known as a Felucca, is a cheaper option for cruising the Nile River. The best time to cruise is from October to May when the weather is a bit cooler.