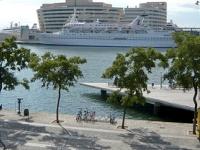 A cruise in Spain is a wonderful way for visitors to see Spain's many coastal attractions. Spanish cruise operators offer Mediterranean tours generally boarding in Barcelona and featuring stop-overs in destinations such as Seville, Vigo and Malaga. Other ports of call include Gibraltar, Palamos, Alicante and Bilbao. Visit Els Quatre Gats, Picasso's old stamping ground in Barcelona, or Malaga's 8th century Alcazaba fortress. Corunna boasts the world's oldest working lighthouse, the Hercules Tower, and the Rock of Gibraltar is often en route. The Salvador Dali Museum is definitely an attraction worth disembarking for in Palamos.
Most of the cruises available have on-board facilities such as swimming pools, spas and gyms, as well as scuba diving and snorkelling opportunities. The vessels used range from large cruise liners to sailing yachts and riverboats. Aside from the Mediterranean voyages, there are various river cruises available, such as the River Guadalquivir trip from Seville, and the River Guadiana cruise along the Spanish-Portuguese border. A cruise vacation is a fantastic way to enjoy the pleasures of Spain without having to drive anywhere or take tedious bus trips.
While a cruise in Spain can be taken at any time of year, the most popular months are from May through to September, when the weather is warm and sailing conditions are at their best. However, the off-peak winter season (November to April) is also pleasant and just as safe, often featuring discounted cruise rates, mild weather and not too many people at the tourist attractions. A cruise of Spain's coastal regions is a very relaxing holiday option.