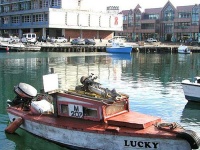 A cruise in and around Barbados is a relaxing way to travel between islands, enjoy beautiful views and revel in cruise ship luxury. There are various Eastern Caribbean cruises that either board and disembark in Barbados, or feature the island as one of their main ports of call. Most ships dock at the deep water harbour on the south-west corner of the island, near Bridgetown. The port offers numerous duty free shops and Bridgetown is easily accessible by shuttle or taxi. Once in Barbados, there are a wealth of attractions and activities to keep visitors busy, and stunning beaches to relax on.
From off-road 4x4 safaris to swimming with turtles, or even surfing the 'Soup Bowl', holidaymakers in Barbados won't be hard-pushed for adventure. Those with extra time on their hands can try kayaking, or perhaps go down in a submarine to observe the underwater world. Other island attractions include the Animal Flower Cave, in St Lucy, and the village of Bathsheba's picture-perfect scenery, as well as two of the oldest buildings in Barbados, the Jacobean structures of Drax Hall and St Nicholas' Abbey.
With great weather all year round, Barbados is a superb cruise destination. There are also numerous packages and specials available to would-be passengers throughout the year, ensuring that anyone, at any time, can pack those sunglasses and set sail!