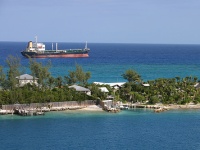 Cruising in the Bahamas is a popular vacation because there are plenty of facilities for travellers to benefit from on-board the boat as it travels casually between some of the most popular spots in the island group. There are various Eastern Caribbean cruises that feature the Bahamas as a destination, most often docking in Nassau's Prince George Wharf and in Freeport, on Grand Bahamas Island. While in the Bahamas, passengers will find pristine beaches to laze on, as well as dozens of things to see and do. The island towns also offer great dining and shopping options for visitors.
The islands offer many attractions and activities, featuring everything from Christopher Columbus' first stop in the New World to Loyalist settlement ruins and the Glass Window Bridge, as well as the largest underwater cave system known today. The mysterious stone blocks in the waters off the Bimini Islands are thought to be part of the 'lost city' of Atlantis, an alluring site for scuba divers, and Long Island boasts the world's deepest 'blue hole'.
A visit to the Pirates of Nassau Museum is a must, while horse-drawn cabs provide guided tours of colonial Nassau. The Festival Place shopping mall is an outlet for local crafts and food, and there are various other local markets throughout the Bahamas selling an array of goods. Beautiful Caribbean weather makes this a year-round destination and, with so much to see and do, cruise passengers must be careful not to miss the boat...