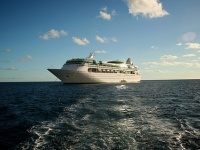 A cruise which includes St Kitts and Nevis is a restful experience that allows passengers to enjoy beautiful views and discover exotic islands, while relaxing on a luxurious ship. There are many Eastern Caribbean cruises that feature the islands as ports of call, and the majority of cruise ships arriving in St Kitts dock at Port Zante, White House or Ballast Bay. Port Zante, in the St Kitts capital of Basseterre, has a mall and dozens of artisan stalls selling local arts and crafts.
In St Kitts, passengers will see the colonial architecture of Basseterre and should visit Brimstone Hill Fortress, the 'Gibraltar of the West Indies'. Frigate Bay Peninsula is another attraction, home to beaches on both the Atlantic and Caribbean coasts. Charlestown, the capital of Nevis, is one of the most charming towns in the Caribbean; the Horatio Nelson Museum is one of many local attractions. For passengers wanting a bit of sun, sand and surf, Pinney's Beach is the epitome of paradise.
Of the many cruise liners offering this excursion, most have seasonal specials or package deals available to would-be passengers. With the Caribbean being bathed in glorious weather all year round, a cruise to St Kitts and Nevis is one of those indulgences that can be enjoyed by anyone, at any time.