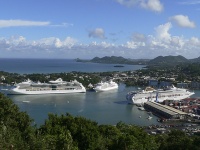 A cruise which includes St Lucia is a relaxing vacation that gives visitors the opportunity to experience laid-back island life and ocean views, as well as spending time on a beautiful ship. There are many Southern Caribbean cruises that feature the island as a stop-over, and most cruise ships arriving in St Lucia use the town of Castries' natural harbour, docking at Pointe Seraphine or La Place Carenage. Pointe Seraphine has the island's premier duty-free shopping mall, while La Place Carenage is within walking distance of various other duty-free shops and the town centre.
Attractions for passengers who disembark at St Lucia include visiting some of the large banana plantations, such as Marquis Estate, or perhaps climbing Morne Fortune, the 'Hill of Good Luck'. If there is time, Marigot Bay is one of the most beautiful bays in the Caribbean and definitely worth visiting. Between March and August, visitors to Grande Anse Beach (on St Lucia's north coast) may be able to see some turtles come ashore.
There are numerous Caribbean cruises which offer the option to visit St Lucia and there are often specials and package deals available. To top it all off, the Caribbean has gorgeous weather year-round, making a St Lucia cruise a perfect vacation experience.