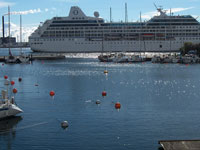 Copenhagen is a popular cruise destination as it is the main gateway to Scandinavian destinations such as Norway, Sweden and Finland and is included in just about every Baltic cruise itinerary. Cruise passengers wanting an extra few days in Copenhagen before or after their cruise will find plenty of accommodations around the city.
Most cruise-liners dock just a stone's throw from Amalienborg Palace and the famous statue of 'The Little Mermaid' at Langelinie Pier, which affords visitors wonderful views of Copenhagen's promenade, established in 1894. It is located 1.5 miles (205km) from the city centre and features a series of shops and cafés.
The Freeport Terminal is located two miles (3km) from town and is frequently used by ships for which Copenhagen is a port of embarkation or debarkation.
Copenhagen cruise passengers can feel the energy of this vibrant city on arrival and can discover and explore the green parks, stroll though the historic cobblestone streets, and take in all that this magical city, dating back to Pre-Viking times, has to offer.
There is also a more cosmopolitan side to Copenhagen, which boasts more Michelin-star restaurants than any other Scandinavian country. Visitors can dine in elegance and marvel at the city's world-renowned architecture, museums and galleries. Copenhagen is a must to explore on foot!