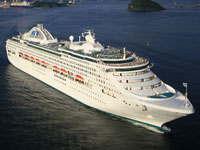 Capital of the country known as 'the Pearl of the Arabian Gulf', Dubai is fast becoming a popular cruise destination for anyone planning to travel the Gulf Coast by sea. A place where the sea and the desert meet, this luxurious cruise destination is leisurely, luxurious and offers some of the world's finest shopping.

The Dubai Cruise Terminal of Port Rashid opened in 2001 and can accommodate two ships simultaneously as well as offering cruise passengers views into beautiful lush palm gardens, Arabian heritage and cultural exhibits, a café, coffee bar and free Internet on five terminals in its business centre. The port terminal also offers two free shopping shuttles departing on the hour to Mercato Mall and City Center Mall, Deira.

Dubai cruise passengers can explore the historical district of al-Bastakia, take a boat trip up Dubai creek or to the artificial Palm Islands, and shop till they drop in the world's shopping Mecca. Passengers opting for a more relaxing stay in the city will enjoy basking on the exquisite beaches and soaking up the beauty of the cost and its resorts.

Passengers wanting to spend a few extra days in Dubai before or after their cruise will have no problem finding accommodation. With some of the most elite and stunningly beautiful hotels in the world, it's no wonder why Dubai is such a popular cruise destination.