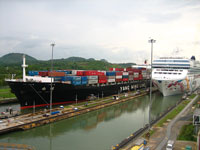 Cruises have long floated through the Panama Canal, although the country has been slow to ensnare the ships to its port cities. Yet Panama's impressive sites have proven too alluring to leave unvisited and it has recently grown as a cruise destination.

The canal itself is the biggest lure to cruise ships. Crossings are a mixture of impressive man-made constructs in the midst of beautiful natural scenery. Ships are raised and lowered 85 feet (26m) above sea level through a series of locks, and released into the opposing ocean. A full crossing takes around ten hours of tight navigation between 50 miles (80km) of canal.

Cruises that make only a partial crossing of the canal often stop in Gatun Lake. The lake was created during construction of the canal and remains one of the world's largest man-made bodies of water. Here, passengers can dip into the canal's scenery with land excursions and boat trips along the lake shores.

No city in Panama has snagged a large portion of the passing cruise ships, although Fuerto Amador and its neighbour, Panama City, are poised to soon do so. Here, at the Pacific entrance to the canal, cruisers can meander Caso Viejo, the old quarter, or watch the Miraflores Locks. The Amador Causeway, at the city's southern end, attracts visitors to its restaurants and shops. The Marine Exhibition Center of the Smithsonian Tropical Research Institute is a hands-on opportunity to learn about marine life surrounding the canal. Close by is the Canopy Tower, which gives a bird's eye view of Soberania National Park. These attractions, much like the country, are largely unexplored but worth being lured in for.

On the Atlantic side the San Blas Islands, Portobelo and Colon, are also angling to land their share of cruise liners. A new port was built in Colon in preparation, although the area's attractions are largely limited to viewing the canal's locks.