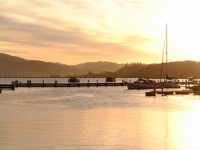 A wedding and honeymoon in South Africa is unforgettable. Its beautiful weather and friendly people are enjoyable at a variety of romantic wedding and honeymoon settings; from forests on the Garden Route to stunning beaches in KwaZulu-Natal, or the wilds of the Kruger National Park and surrounds. Cape Town is another beautiful wedding or honeymoon destination, perhaps even the best due to its variety of attractions, cultures and facilities. There are various hotels, lodges and holiday resorts in South Africa that provide unique wedding and honeymoon venues.

Wedding and Honeymoon things to see and do

A wedding or honeymoon couple in South Africa will find many intriguing things to see and do. In Cape Town, visit the world-famous Table Mountain or Nelson Mandela's Robben Island. Travelling through the Garden Route, the Knysna waterfront and lagoon or the Tsitsikamma Rainforest are worth exploring, as are some of the many coastal dive sites. The water gets warmer further up the coast and there are lovely beach towns to visit in the Transkei and KwaZulu-Natal. And of course, the Kruger National Park is undoubtedly a truly African 'Big 5' experience!

South Africa Wedding Formalities

Couples wishing to get married in South Africa will need to provide identity documents and birth certificates. If either party is not a resident of South Africa, they will need to show a valid passport. Two witnesses need to be present at the wedding, with their identity documents, to sign the marriage register. Civil marriages in South Africa can only be officiated by an authorized marriage officer. The South African Department of Home Affairs has detailed marriage information for couples.