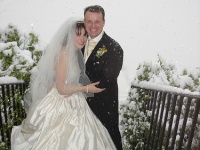 A wedding and honeymoon in Austria guarantees historic venues and beautiful scenery, from palaces and cathedrals in Vienna to the snow-capped mountains of the Alps. There are many resorts, hotels and villas to accommodate wedding couples and guests, and the warm hospitality of the Austrian people makes a wedding and honeymoon here even more enjoyable. Summers are warm and sunny in Austria and winters provide beautiful snowy scenery, making this a romantic wedding and honeymoon destination all year.
Wedding and Honeymoon things to see and do
Wedding and honeymoon couples in Austria are bound to find many things to see and do. While in Vienna, the Spanish Riding School's Lipizzaner horses put on an elegant show, as do performers at the Vienna State Opera. The Sound of Music was filmed in Salzburg and there are numerous tours of the film locations for movie buffs to enjoy. The 11th century Hohensalzburg Fortress, also in Salzburg, is a must-see for couples interested in history, while the prospect of skiing on the majestic Alpine slopes will definitely entice sports enthusiasts. For a country often covered in snow, the warmth of this destination is both surprising and inviting for wedding or honeymoon couples.
Austria Wedding Formalities
Only civil marriage is legal in Austria (although couples may also have a religious ceremony) and they are performed at the Registrar's Office in Standesamt, Vienna. Applications can be made in person or by mail and and submitted documents (birth certificates, parents' marriage certificates, certificate of single status) must be in German or accompanied by a certified German translation. Passports are also advisable for foreigners as proof of their country of residence.