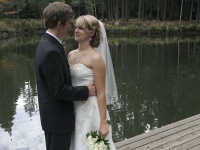 A wedding and honeymoon in Switzerland will be filled with romance, tradition and beauty. Traditionally, the bride wears a crown or wreath to her wedding to symbolizes her maidenhood and, after the ceremony, the wreath is removed and burned; if it burns quickly, the girl is considered to have good fortune. This is usually followed by a fantastic banquet to celebrate the union of the couple and their families. Beautiful wedding and honeymoon destinations extend from the warm Riviera-style resorts of Ticino to the snowy slopes of the Swiss Alps. There are romantic hotels, resorts and chalets countrywide to accommodate couples. Seasonal, and regional, weather differences ensure there will be a time to suit most preferences.

Wedding and Honeymoon things to see and do

Switzerland has many things to see and do for wedding and honeymoon couples. The medieval castle, Château de Chillon, is romantically set on the shores of Lake Geneva against an exquisite mountain backdrop. Still in Geneva, the Jet d'Eau is the tallest fountain in the world and definitely worth seeing. Old Town in Zurich is also beautiful, with historic buildings lining it's charming streets. Skiing in the Swiss Alps is a world-famous option for couples, and then of course there's the Swiss cheese, and chocolate...

Switzerland Wedding Formalities

Couples must submit an application for the Promise of Marriage at the Registry Office in the place where they intend to marry. The application is available from a Swiss Embassy and must be completed in the presence the Registrar in Switzerland. The only valid marriage in Switzerland is an official civil marriage ceremony conducted by local government officials. Certified French, German or Italian copies of a valid 10-year passport, a full birth certificate and affidavits to single status are all required. The couple can have their Swiss marriage certificate translated by their national embassy.