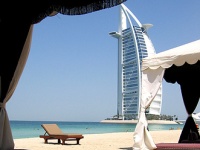 Dubai is a beautiful city by the sea, a splendid honeymoon destination! It's romantic, sophisticated and multicultural, an intriguing destination for newly-weds to experience together. Set between the desert and the Gulf of Oman's stunning coast, this is a city where modern skyscrapers rise between ancient mosques and souks (markets), all waiting to be explored by honeymoon couples.

Dubai Honeymoon Things To Do

Dubai offers newly-weds a wealth of luxurious, private honeymoon accommodation. The tallest hotel in the world, and shaped like a huge sail, the 7* Burj Al Arab resort is just as spectacular in its hosting of guests. Close on its heels, Jumeirah Beach Hotel looks like a breaking wave and boasts its own private beach. In a league of its own, Al Hamra Fort Hotel is located on a private island with desert safaris, archaeological sites and a natural lagoon for couples to enjoy.

While on honeymoon in Dubai, couples will not run short of things to do. The city offers an amazing selection of shops and souks - the Gold Souk is a must! The clear blue waters off Dubai's immaculate beaches are perfect for scuba diving and sailing, while camel riding, dune buggy expeditions and safaris are popular in the nearby desert sands. Enjoy indoor skiing and snowboarding together at the Ski Dubai resort.

For history lovers, the Dubai Creek is reminiscent of an ancient Arabian port, quite a romantic stop, and Al-Hosn Palace has incredible courtyards for couples to explore. Walking the historic Bastakiya district can also be a romantic outing. In Dubai, newly-weds can revel in luxurious comfort while experiencing the beautiful cultures and sites of a foreign land.