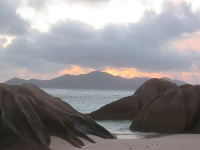 A honeymoon in the Seychelles will reveal this beautiful island archipelago's crystalline turquoise water, pristine coral reefs, stretches of powdery beaches and vast rainforests. This has long been considered the most romantic location from which couples can begin their life together.

Seychelles Honeymoon Things To Do

On honeymoon in the Seychelles, newly-weds may be tempted to spend all day lazing in a hammock, suspended over a white beach with turquoise waters quietly lapping the shore and a cool, tropical drink in hand. However, there is so much more for romantic couples to see and do here.

Wander hand-in-hand through the smallest capital on earth; Victoria exudes quaint charm and is easily explored on foot. Near Mahé, Ste Anne Marine National Park is a romantic destination where newly-weds can take a trip on a glass bottomed boat, or perhaps see Hawksbill turtle hatchlings dash for the sea. The more adventurous honeymooners can take advantage of some of the exquisite dive sites, home to exceptional coral reefs and diverse marine life.

There are also numerous restaurants and cafés on the islands where couples can enjoy a romantic brunch or candle-lit dinner together. Honeymoon resorts abound, offering couples sought-after privacy and stylish accommodation, and various spas ensure some luxurious pampering. With so much to offer, a honeymoon in the Seychelles is a beautiful start to married life.