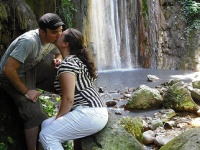 The South Caribbean island of St Lucia offers honeymoon couples a chance to escape the bustle of the western world and revel in exotic island delights. Newly-weds will find gorgeous beaches to relax on, quaint and friendly towns to enjoy, and fascinating natural sites to explore, made even more pleasant by year-round good weather.

St Lucia Honeymoon Things To Do

St Lucia has many romantic things to do and see. In Castries, couples can sit together in the shade of the huge samaan tree in Derek Walcott Square, thought to be about 400 years old, or relax at Pointe Seraphine and La Place Carenage in the town's natural harbour. Pigeon Island, north of Castries, has a romantic past as the hide-out of Jambe de Bois, an infamous peg-leg pirate.

Wander the town of Soufriere, taking in the colourfully painted buildings and jungle background, as well as the two extinct volcanoes above the port. The 'drive-in' volcano, Mount Soufriere, is an interesting outing, while the nearby Diamond Mineral Baths, Waterfall and Botanical Gardens are also romantic retreats.

Other interesting excursions for newly-weds include a trip to one of the banana plantations, such as Marquis Estate, or perhaps climbing Morne Fortune, the 'Hill of Good Luck'. As one of the most beautiful bays in the Caribbean, Marigot Bay is definitely worth spending some time at, as is Grande Anse Beach, on St Lucia's north coast.