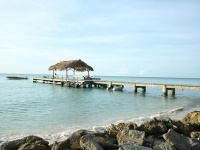 A Trinidad and Tobago honeymoon offers couples a chance to get away from it all and experience exotic island life while beginning their own new life together. Trinidad is home to the nation's capital, Port of Spain, and is therefore a bit more upbeat, while Tobago has plenty of relaxing and natural attractions to enjoy.

Trinidad and Tobago Honeymoon Things To Do

On honeymoon in Trinidad couples will be able to spend time enjoying Port of Spain's beaches, nightlife and water sports. The zoo and botanical gardens are also a must-see while in town. Live music can be heard in the local beach hotels and candle-lit dinner options abound. The Caroni Bird Sanctuary and La Brea Pitch Lake are good places for some quiet time together.

While in Tobago on honeymoon couples can enjoy an exotic swim at the tropical Argyle Waterfalls. Englishman's Bay, Pigeon Point and Buccoo Beach are nice spots to catch a bit of sun and relax, while the Castara beach has very romantic sunset views. Buccoo Reef can be seen from a glass-bottom boat and is an exceptional dive site, while the local village often has entertaining street parties featuring both local and reggae music. A day-trip to Little Tobago will reveal some fantastic exotic bird life.