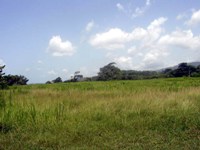 Jamaica is an island with something on offer for everyone. If beaches and parties don't add up to your idea of the perfect vacation, then the numerous hiking and birding opportunities might. Jamaica has a number of great hiking areas including the Blue Mountains and Cockpit Country. Just go prepared for the heat: sunscreen, hats and water bottles are a must in the Jamaican hiker's arsenal.
Jamaica's Blue Mountains offer an experience not usually expected from a Caribbean vacation: the chance to set off on a steep hike through a national park, across streams and beside waterfalls, through a botanical wonderland. Hikers also pass by coffee plantations, because it is in these mountains that the famous Jamaican Blue Mountain coffee is cultivated and blended: so sought after that it has become one of the island's chief exports. Climbing from sea-level, on the outskirts of Kingston, along trails up to the foggy peaks, hikers discover a complex series of ecosystems. En route to the mountains is the Blue Mountain Inn, one of Jamaica's most famous restaurants. Further on, at Irish Town, the Strawberry Hill resort is the premier place for food and lodging, having been frequented by the rich and famous. Those who don't plan to hike, but wish to enjoy a vista of the mountains, can picnic at Holywell National Recreation Park in the area (open Tuesday to Sunday from 10am to 5pm).
Cockpit Country in Jamaica is the most extensive Jamaican wilderness left in the country. Visitors to Cockpit Country can take part in numerous hikes in the region, the most popular being the Windsor circuit. The Windsor hike leaves from Windsor and takes hikers along the Troy Trail to Bamboo Bottom before passing through Guthries to return to Windsor. At three miles (5km), it is not a strenuous hike and it offers visitors to Jamaica a great chance to see some of the wilderness the country has to offer. There are a number of other trails through Cockpit Country but visitors are advised to take a guide as many of the trails are not kept in good repair and it is easy to get lost if you do not know the region.