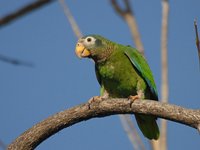 Jamaica has an abundance of endemic bird species, more so than any of the other Caribbean Islands. The island boasts more than 290 species of birds, ranging from migrant visitors to permanent species. Remarkably, 28 of the species of bird found on the island can be found nowhere else in the world.
In winter the number of bird species in Jamaica generally doubles as the European and North American winter forces the birds to migrate to warmer climates. Thus winter is the best time to visit Jamaica if you want to see the greatest variety of birds. Numerous tour companies offer birding tours of the country, complete with experienced guides who know the best places to spot birds and how to identify them.
The national bird is the Doctor Bird, a tiny gem-coloured hummingbird which delights visitors, and which you can hand feed at Rocklands Bird Sanctuary, just outside Montego Bay. Other great birding areas in Jamaica include The Blue Mountains and John Crow Mountains National Park, Cockpit Country, Bluefields, Black River, The Royal Palm Reserve and Cranbrook Flower Forest. Note that Jamaica's birds and their eggs are protected under the Wildlife Protection Act which prohibits 'hunting, harassment, capture and possession of the whole or any part of a protected bird'.