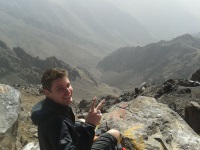 Travellers to Morocco find it hard to resist the lure of the imposing Atlas Mountains, which arc southwards from the Mediterranean coast for 1,000 miles (1,609km) and offer adventurers a rugged paradise.
Numerous guided walking tours and treks are on offer, generally starting from Marrakech or the village of Imlil. Trekkers on High Atlas are destined to hike up soaring peaks, through deep canyons, and past remote Berber villages. Do-it-yourself hikers will find locals willing to act as porters and guides, and hikers can also hire mules to carry equipment. The adventure opportunities in the Atlas range are varied, and range from challenging to accessible. For instance, only the experienced and well-prepared should tackle the ascent of Jebel Toubkal, the highest summit in North Africa, but even beginners can enjoy a tranquil stroll through the wild landscape of the Jebel Sahro region, where rocky plateaux are interspersed with oases that attract exotic creatures to its crystal clear pools.
The range of tours and hikes on offer is spectacular but perhaps even more fascinating is spending some time with the local Berber people who offer deep insight into the landscape and its stories. For those who prefer to book tours, a number of reputable companies will design trips through the mountains to suit travellers' needs.