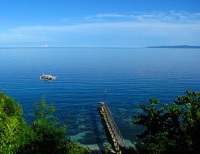 While some travellers are content to fly into Manila, head straight to an island, and stay there for the duration of their holiday, adventurous souls will be richly rewarded by doing some island hopping in the Philippines. Visitors will soon discover there is no better way to explore the amazing archipelago than by skipping from one glorious island paradise to another, taking in the sights along the way, and getting involved in some unforgettable activities like diving among sunken Japanese submarines, lazing on remote beaches, and exploring limestone cave complexes.
Island hopping in the Philippines is particularly popular among young budget travellers with a taste for adventure, and is usually best achieved through a combination of public buses and ships and boats as a means of transport (although flights will be necessary between certain islands). The standard of Filipino passenger ships has increased greatly in recent years: both in terms of comfort, and in terms of the safety risks involved in using them; however, travellers intending to island hop should ensure that they are well-informed of the dangers of piracy and kidnapping which are problems in parts of the Philippines.
A suggested itinerary, for the adventurous, would see them travel from Luzon to Mindoro to Panay to Boracay to Negros Island to Siquijor to Bohol, and then finally to Cebu. Don't rush the journey - remember, the Philippines is the ideal place to practice the art of slow travel.