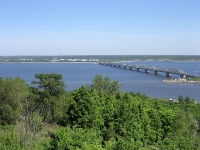 A romantic and relaxing way to see some of the most interesting cities in Russia, river cruises on the Volga are an increasingly popular activity on any Russian holiday. In fact, Volga River cruises are consistently ranked among the world's best river cruises.
Volga River cruises generally spend several nights in Moscow and St Petersburg, giving passengers the chance to explore those fascinating cities. While some shorter cruises stay in the north, there are others, including 14-day itineraries, which travel all the way down the Volga River to Astrakhan, near the Caspian Sea. Along the way, passengers stop in various ports and are given time to explore cities. Many of the cruise ships also offer on-board entertainment such as historical lectures and traditional folk music and dance performances.
Other towns visited by Volga River cruises include Uglich, Yaroslavl, Nizhniy Novgorod, Cheboksary, Kazan, Samara, Saratov, Volgograd (formerly Stalingrad), Goritzy, Kizhi Island, and Mandrogi. River cruises operate on the Volga during the summer months from May to September.