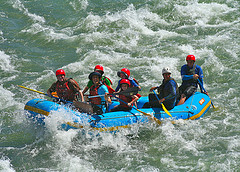 Costa Rica is known for its exciting variety of white water and the numerous rafting opportunities in the country are made more attractive by the warm river water and the spectacular scenery. You can go rafting or paddling on many rivers in Costa Rica and there is something to suit all levels of ability and bravery.
For experienced paddlers there are challenging, adrenalin-pumping sections of class four rapids, as seen in sections like Pascua on the Reventazon river; for those looking for a safe thrill there are exciting big volume runs through class three rapids and for those looking for something calm and leisurely, there are beautiful, easy trips which are suitable for the whole family. You can devote a few hours to the activity or a few days. The multi-day trips are an incredible way to experience Costa Rica as they pass through stunning natural scenery and you spend your nights in various wilderness camps and lodges.
Costa Rica has a good safety record with white water rafting and there are a number of reputable companies offering white water activities in the country. One of the most established whitewater rafting companies is Rios Tropicales, who offer a large variety of trips on the Pacuare, Reventazon and Sarapiqui rivers among others. The Rio Toro river is another popular white water challenge in Costa Rica but its class three to four rapids are not for the faint of heart.