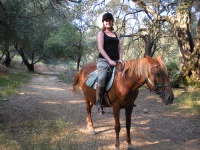 It is possible to find stables and riding schools all over Greece and horse riding is a popular activity on many of the Greek islands - although donkey trekking is a fierce competitor! Riding the picturesque trails of the islands from village to village is an extremely worthwhile activity and a good way to see the less touristy and developed landscapes and get in touch with the rural communities.
Corfu offers popular horseback excursions - for people of all levels of experience from beginners to advanced riders. Riders have the option of trekking through woodland to the village of Ano Korakiana and down through olive groves, wide dirt tracks, vineyards, and pastures. Sometimes the rides take visitors to an attraction on the island, or end in a picnic or snack; afterwards children can feed carrots and apples to the horses.
Kos is also a great island for riding and the Alfa Horse Riding Centre is one of the best. The tours take riders on a trail down the slopes of Mount Dikeos, or a ride to the chapel St Theologos in the mountains, stopping for a snack on the way. There are even pony rides for younger children. These trips are great family activities and an exciting way to see the scenic landscape of Kos island. It is always a good idea to book riding trips in advance.