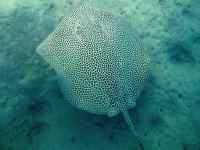 Until fairly recently diving in Greece was heavily restricted to keep people from disturbing, damaging or pilfering from the rich underwater store of archaeological artefacts strewn around the Greek islands and peninsula. Greece is home to some truly thrilling underwater treasure troves and the fact that the sites are still relatively undisturbed by divers, due to the ban, makes it all the more appealing.
Now, a huge swathe of dive sites, shops and schools have opened and Greece has skyrocketed to the top of the list of diving destinations in Europe. There is a wide variety of diving on offer - there are 1,400 islands after all - including wreck, cavern, reef and wall dives. Arguably Greece's most famous dive site is the wreck of the HMHS Britannic (sister ship of the Titanic), off the island of Kea, but it is only suitable for those trained in technical diving and, as it is a British war grave, permission is required. The Nisopoulo wreck, off Corfu, is also a great wreck dive and there are ancient amphora and good quality reefs to be explored at this site; it is also far more accessible. Marathonissi Island, near Zakynthos, is also a favourite for divers, mainly because of the wealth of marine life and the possibility of seeing giant loggerhead turtles. Marathonisi is suitable for all levels of experience. The other must-see destination for many divers is Santorini, due to the island's astounding underwater rock formations.
There are dive schools and centres all over Greece and generally wherever there are good diving opportunities there should be equipment, facilities and advice available. Some of the more popular centres are in Athens, Corfu, Karpathos, Cephalonia, Kos, Crete, Lefkas, Lesvos, Mykonos, Rhodes, Samos, Santorini, Thessaloniki and Zakynthos.
There is always the chance of coming across artefacts during dives and the law is that you can observe but never touch and all finds must be reported. The thrill of playing underwater archaeologist is Greece's biggest draw for divers but there are also some captivating underwater rock formations, wrecks and reefs to be enjoyed and even without the excitement of discovering an ancient artefact the country would be a superb dive destination.