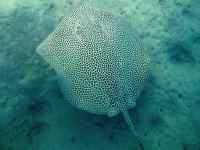 Until recently, Greek authorities restricted diving to keep people from damaging or pilfering from the artefacts strewn around the country's islands and peninsula. Indeed, Greece is home to some marvellous underwater treasures.
Today, a great many sites, shops and schools have opened, skyrocketing Greece to the top of Europe's diving-destinations list. Visitors will find a matchless selection of sites around Greece's 1 400 islands. They include wreck, cavern, reef and wall dives.
Located just off the island of Kea, the HMHS Britannic wreck is arguably Greece's most famous dive site. The vessel was the Titanic's sister ship, and divers must receive the necessary permits and permission to visit it. The Britannic is only suitable for experienced technical divers.
The Nisopoulo wreck off Corfu is also a great dive site. It features ancient amphora and good quality reefs, and is far more accessible than the Britannic. Marathonisi Island, near Zakynthos, is another favourite, due mainly to its wealth of marine life. It's suitable for all levels of experience. Santorini Island is the other bucket-list item for many divers, thanks to its astounding underwater rock formations.
Generally speaking, visitors will find schools and equipment wherever there are good diving opportunities. Some of the more popular centres are in Athens, Corfu, Karpathos, Cephalonia, Kos, Crete, Lefkas, Lesvos, Mykonos, Rhodes, Samos, Santorini, Thessaloniki and Zakynthos.
According to Greek law, divers who come across artefacts during dives can observe them, though no touching is allowed. Divers must report all finds.