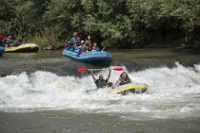 Galilee is renowned for its natural beauty and ancient biblical sites. Outdoor enthusiasts will enjoy the region's many fun activities, which include camping, cycling, hiking, horse-riding, kayaking, 4x4 tours and river-rafting.
Seasoned rafters and kayakers will find the area's white-water scene tame. Amateurs, on the other hand, can look forward to some amazing river trips through the area's beautiful scenery. They can also try other adventure activities, such as archery, climbing walls and zip-lining.
Jeep and 4x4 tours are another exciting way to explore the region. A few operators in eastern and upper Galilee, plus the Golan Heights offer tours through the rugged and breath-taking landscapes. There are many different routes, covering various religious and historical sites as well as the region's natural features.