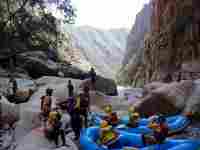 A number of powerful rivers race within Peru's borders, including the mighty Amazon. Experienced paddlers will find some challenging stretches of white-water, while novices can enjoy the country's gentler runs. The Urubamba Valley, the Colca and Cotahuasi Canyons, and the Rio Santa and Tambopata Rivers have terrific options. Adventurers can also tackle many wonderful stretches near Arequipa, which makes a great base for rafting and kayaking holidays.
Adrenalin rush aside, river trips allow travellers to access landscapes that might otherwise be very difficult to explore. Many of the country's steep desert canyons and overgrown jungle valleys are best traversed by boat, with wildlife sometimes appearing along the banks.
May through September are the best months for white-water rafting, when water levels are low. Rivers become dangerous during the rainy season (summer). Travellers should note that many of Peru's tour operators offer white-water trips.