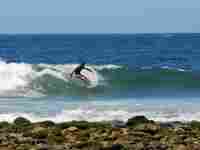 A reliable swell, fairly warm water and consistent offshore winds make Peru a tremendous surfing destination. The north coast in particular has long, empty waves in beautiful locations, plus one of the world's largest left-hand point breaks.
Local surfers generally head to Lima, which receives an almost daily bounty of good waves, and has popular surf spots. The region's barrels, beach breaks, point breaks, sandbars and rocky bottoms cater for all levels of experience.
Regarding conditions, many surfers go without wetsuits during summer, but wear short-sleeved suits in spring and autumn. Full-body 3.2mm suits and booties are a good idea in winter. The water is warmer than on the Californian coast, but can get chilly. Sharks are not an issue.