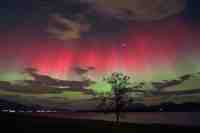 Viewing the Northern Lights, also named the Aurora Borealis, graces many a bucket list for good reason. The Northern Lights are a big draw for tourists and Norway is one of a number of countries that offer this once-in-a-lifetime opportunity.
In theory, you can see the display anywhere in Norway but your chances increase dramatically within the Arctic Circle in the north. Tromsø and the nearby village of Ersfjorden are two of the most popular Northern Lights destinations in Norway.
Many people argue that the best way to see them is on board a traditional steamer ship that cruises the fjords in the region. This is partly because the lights are even more spectacular when reflected in water.
The brilliance of the lights is related to spikes in solar activity and tour guides and avid searchers should check out the kp index which measures electromagnetic activity in the atmosphere: a reading of two or higher means conditions are good for spotting the Northern Lights.
Weather is also an important factor. Clouds can hide the display and rain and snow can dampen the brilliance, not to mention the spectators. Checking a weather forecast is therefore essential when planning.
The Northern Lights can be visible in Norway any time between September and March but are often at their best in midwinter, in December and January. The lights are famously unpredictable and a sighting is never guaranteed. But determined travellers who plan well should be able to enjoy the display during their trip.