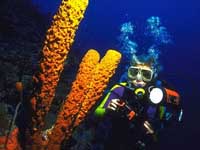 Scuba diving and snorkelling, for beginners and experts alike, is the reason why Puerto Rico is often called the Caribbean's best-kept underwater secret. Off the southwest coast, from the village of La Parguera to the city of Ponce, lie some of the island's most extraordinary dive sites.
These include the Black Wall, home of the Caribbean's rarely seen black coral, while another noteworthy spot off the west coast of Puerto Rico is Isla Mona. Known as the Galapagos of the Caribbean, it is home to sea turtles, dolphins and various species of rare marine life.
Puerto Rico is regularly seen as one of the top five destinations for shore diving and the island is a mainstay in lists for best overall diving expeditions. For visitors looking to get close to but not necessarily submerged in the water, Puerto Rico offers various other water sports such as world-class surfing, windsurfing, sailing, kayaking and deep-sea fishing.