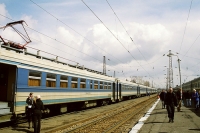 The Trans-Siberian Railway is one of the most famous of the world's great train journeys, a six-day trip covering 5,869 miles (9,446km) and eight time zones from Moscow in Europe to Vladivostok on the Asian Pacific Coast. It is the longest continuous railway on earth and is the best way to experience the vast expanse of Russia, passing small isolated farmhouses and pastoral lands, churches and brightly painted log-cabin settlements, rolling hills and forests, steppes, rivers and lakes.
The train only stops briefly several times a day, but it is possible to arrange a stopover at any of the main cities or towns along the way. After the appealing city of Irkutsk, the 'capital of Siberia', the route passes the magnificent Lake Baikal, with a surface area as large as Belgium and the Netherlands combined, and pure, crystal-clear waters that are the deepest in the world. This is the most attractive part of the journey, running along the shores of the 25-million-year-old lake and passing through numerous tunnels blasted into the cliffs, beneath arches and over bridges. Vladivostok, the final destination, with its picturesque hills overlooking the impressive natural harbour, is Russia's major international trading port, and is a lively and interesting city.
The Trans-Siberian Railway was started in 1891 to link the western cities in European Russia to its Far Eastern provinces and the important Pacific port of Vladivostok. It took 26 years to build and remains one of the most outstanding engineering achievements of its time. Other popular routes are branches of the Trans-Siberian Railway, the Trans-Mongolian or Trans-Manchurian railways, which travel from Moscow to Beijing.