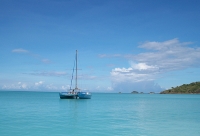 The coasts of Antigua are ideal for yacht cruising and racing, with constant trade winds, and many harbours for exploration. One can easily spend a week cruising around these picturesque islands. English Harbour and Jolly Harbour make ideal yacht headquarters. Two regattas take place towards the end of April - Classic Yacht Regatta and the larger Sailing Week, which has become one of the top three regattas in the world. Sailing Week boasts six days of challenging racing and plenty of fun social events surrounding the competition.
If you want to be part of the action but you're not racing, there are some excellent options with regards to viewing points. With all races taking place off English and Falmouth Harbours a great spectator's option is to take a hiking trail and head out to one of the forts or headlands to watch. Some of the best views are from Carpenters Rock which is about 15 minutes along the headline from Galleon Beach, Fort Charlotte (along the same hike) and Fort Berkley and the Middle Ground Trail. The Middle Ground Trail leads out from Nelson's Dockyard along to Fort Berkley and then up over the old forts and back down to Pigeon Point. Both hiking routes also offer excellent cooling off stops, one at Galleon Beach and the other at Pigeon Point.
For the non-competitive sailor, Barbuda offers splendid cruising sites and a number of lovely anchorages on its west and south sides. And don't ignore Redonda, Antigua's out-island, for this small, bold outcropping 30 miles to the southeast has some surprises in store; self-proclaimed as the smallest island kingdom on earth. All considered, Antigua and Barbuda are ideal islands for sailing, both in a casual and competitive capacity, sporting crystal clear waters and steady trade winds, all which ensure smooth sailing for sea lovers.