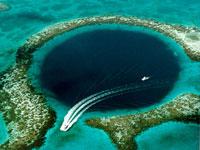 Belize offers some of the best and most varied diving in the world and has the added benefits of excellent weather conditions and clear, warm water. At 185 miles (300km) long, Belize's barrier reef is the second longest in the world, and the largest in the western hemisphere. Most dive trips are organised at one of the cayes (pronounced keys): offshore atolls that are located between the mainland and the barrier reef.
Ambergris Caye is the most popular destination for tourists who come to Belize for the superb diving and snorkelling. It is close to many of the best dive sites including the Lighthouse Reef and Turneffe Islands. Other popular cayes are Caye Caulker and St George's Caye. Snorkellers and divers are almost guaranteed to see stingrays, schooling jack and the more common reef tropicals such as groupers, angelfish, parrot fish and barracuda. Spot turtles and sharks may well be sighted too.
The Blue Hole is Belize's best-known dive site - at 1,000 feet (305m) across and 460 feet (140m) deep, it is an awesome spectacle. There are a number of professional dive shops on the main cayes, which service divers with air and well-maintained diving and snorkelling equipment. The instructors working out of these shops provide full PADI and NAUI certification, and referrals for divers wanting to complete their open water certification. In the unlikely event of a diving accident, Ambergris Caye has a hyperbaric chamber.