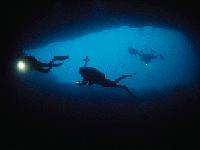 The Bahamas offers some of the best scuba diving and snorkelling in the world. Every island is rimmed by coral reefs and crystal clear water. Among the impressive array of coral formations you will experience a dazzling display of colourful sea life including moray eels, barracudas, stingrays, turtles, sand tigers, queen triggerfish, parrotfish, and angelfish. Warm temperatures make wetsuits unnecessary and diving even more appealing.
There are popular dive sites off Andros Island, which is bordered by the world's third largest barrier reef. On Blue Lagoon Island, also known as Salt Cay, you can dive with dolphins. In Bimini, islanders claim that mysterious underwater blocks are the remains of the lost city of Atlantis.
Elbow Cay, just off Great Abaco, is a wonderful spot from which to view an amazing array of coral. Other highlights include the famous Blue Caves, and Dean's Blue Hole in particular is a big drawcard for free divers looking to achieve a personal record. Free diving competitions are held on occasion at Dean's Cave. For leisure divers, many companies rent equipment and offer courses and excursions for both novice and experienced divers.