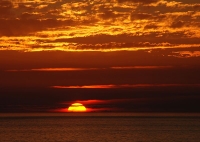 Watching the sun set spectacularly over the sea while sipping rum cocktails is an understandably popular way to spend an evening in the Cayman Islands, as it is in most of the Caribbean. A number of tour operators offer sunset cruises.
One of these cruises is the Jolly Roger, which is a replica of a 17th-century galleon and takes one back to the days of Tortuga and the Caribbean pirates, offering cocktails, snacks, and a well-stocked bar, as well as music.
Sunset cruises are usually available all year round, unless the weather is stormy. Hurricane season in the Cayman Islands runs from August to October, but some people prefer to risk the chance of storms to enjoy a more peaceful off-season holiday. Trips are usually about two and a half hours long and leave from George Town on Grand Cayman at about 5pm in winter and 5.30pm in summer.