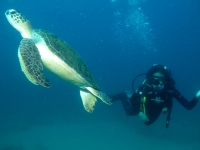 Mozambique offers some of the best diving in southern Africa with warm waters, varied and abundant marine life, uncrowded and uncommercialised sites and generally good visibility.
The most popular location is the Bazaruto archipelago, which has outstanding diving and snorkelling opportunities, including Manta Reef, Two-Mile Reef, Vengies, Rainbow Runner Reef and the Greek Temple. The waters offshore of the Inhambane area are also a snorkelling and scuba diving paradise with pristine reefs and an abundance of manta rays and whale sharks. In the south, Ponta d'Ouro has a number of world-class dive sites, and its easy accessibility from South Africa is an advantage for those whipping across the border for a few great dives. Inhaca Island is another popular destination with extensive coral reefs, as is Tofo in the southeast of the country.
Mozambique's waters are home to some fascinating sea creatures, including turtles and whale sharks, which divers are most likely to encounter between April and July. Although possible all year round, diving is best during the winter months between May and September, when there are fewer storms, less wind and the current is not as strong, allowing for increased visibility. Winter visitors may even experience a close-up encounter with the migrating humpback whales. Mozambique is essentially one of the best diving destinations in the world, with plenty of schools and resorts offering dive courses and equipment for hire, and dive sites to suit all levels of expertise and experience.