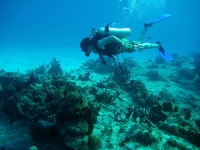 The island of Cozumel offers the best diving in Mexico and is ranked as one of the top five diving spots in the world. There are exciting reef drop-offs, coral gardens, caves and plenty of marine life, and with easily accessible reefs, the snorkelling also renowned in the area. The region around Playa del Carmen also offers excellent reef diving and snorkelling and some of the best cave diving in the limestone caverns along the coast. The Great Maya Reef is a chain of shallow patches that stretches all along the Yucatan coastline and is home to hundreds of species of fish and sea turtles.
The Sea of Cortez, or Gulf of California, to the east of the Baja California Peninsula does not offer the visibility or warm waters to match destinations in the Caribbean, but its nutrient rich waters support a huge variety of marine life and divers are likely to come into contact with some of the bigger residents of the underwater world such as schools of hammerhead sharks, giant manta rays, whale sharks, marlin and whales. El Bajo is considered the best site in the gulf, while the beautiful Ballandra Bay is great for snorkelling.
The Mexican coast is strewn with dive operators and travellers will find it easy to find support, advice, equipment and lessons. Certified divers should ensure that they bring along proof of their qualifications. Mexico is a great diving destination year-round, but on the Pacific Coast the best time to dive is between August and February.