British Museum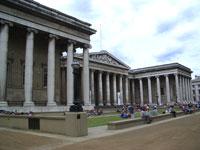 The British Museum is widely regarded as the world's greatest museum of human history and culture. Containing more than 13 million articles from all corners of the globe, the British Museum boasts an overwhelming collection of fascinating artefacts. Most prized amongst its collection are its famous antiquities, which include the Parthenon Frieze (or Elgin Marbles), the Rosetta Stone and the Roman Portland Vase, which dates from the 1st century AD. In the year 2000, the Great Court was reopened with an incredible glass roof covering two acres, and stairwells leading down to the Reading Room, which has been completely restored. Visitors to London should not miss out on the British Museum, which is one of the world's great cultural troves. Budget at least half a day to get a sense of the wealth of history housed within the Museum.
Address: Great Russell Street
E-mail: information@britishmuseum.org
Website: www.britishmuseum.org
Telephone: (0)20 7323 8299
Transport: Russell Square underground station
Opening times: Open daily, from 10am to 5.30pm (till 8.30pm on Fridays).
Admission: Free admission, although special exhibitions may charge a fee