London Eye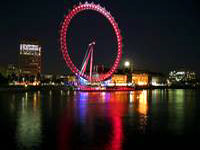 London Eye at night © Tunliweb
At 443ft (135m) tall, and weighing more than 250 double-decker buses, the London Eye is a truly spectacular feature of London's skyline. Offering incredible views of most of London's major attractions, and an opportunity to put the city's geography into perspective, it is a must-see attraction for first-time visitors to England's capital city. Originally designed by architects David Marks and Julia Barfield as an entry for a Millennium Landmark competition, the project took six years and the expertise of hundreds of people from five European countries to turn it into a reality. Often featured in big-budget movies, and regularly touted as one of the best things to see and experience in London, make sure you include a ride on the London Eye in your UK holiday itinerary. Wheelchair-bound visitors will be delighted to know that both the London Eye and all its on-site facilities are fully accessible.
Address: Thames South Bank
Website: www.londoneye.com
Transport: Westminster, Waterloo or Embankment underground stations. Public bus routes RV1, 211, 77 or 381
Opening times: Open every day of the week. Opening times vary according to season and month - check the website for details.
Admission: There are a variety of ticket options, check the website for details. Standard adult tickets start from £24 if booked online.